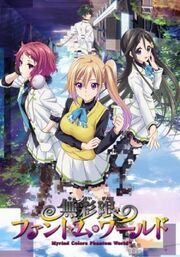 The anime adaption of the Musaigen no Phantom World (無彩限のファントム・ワールド?) light novel began airing on January 7, 2016 and finished on March 31, 2016.
OP: "Naked Dive"
ED: Junshin Always (純真Always?)
Tatsuya Ishihara (Director)
Yota Tsuruoka (Sound Director)
Fumihiko Shimo (Series Composition)
Kazumi Ikeda (Character Design, Chief Animation Director)
Main article: List of Musaigen no Phantom World Episodes
External Links
Edit
Ad blocker interference detected!
Wikia is a free-to-use site that makes money from advertising. We have a modified experience for viewers using ad blockers

Wikia is not accessible if you've made further modifications. Remove the custom ad blocker rule(s) and the page will load as expected.